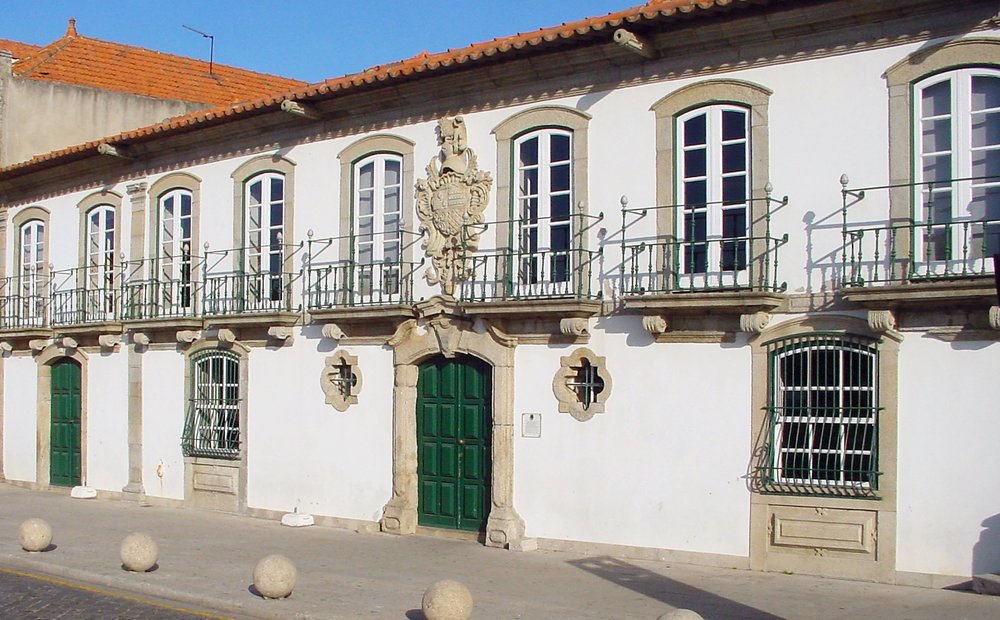 The Submonastery House, also known as Manor of the Vasconcelos, was built in the second half of the 18th century. This family kept the ownership until the 1970s.
The construction of this building resulted from the transformation of a balcony house and an adjoining barn, built in 1689 by Jacinto Vieira de Barros de Vasconcelos. The work intended to constitute a show of power, imposing to the town the nobiliarchic ascendancy of its owners, being integrated in a set of properties that, by the same time, were built in Vila do Conde.
The coat of arms dates from the same time of this transformation, around 1770. Mónica Escolástica de Vasconcelos Monteiro de Barros e Almada was the founder of Manor of the Vasconcelos, around that year. She and her husband, Paulo José de Lima, ordered the construction of this coat of arms, with the arms of the Limas, Vasconcelos, Monteiros and Barros.
In 1980 the building was the target of works that only left its façade standing. By the intervention of the municipality, which later acquired the ruined manor, this was transformed into the Municipal Auditorium, a place dedicated to culture, promoting the exhibition of plays, dance, cinema, concerts and exhibitions, among others.
Image Gallery:
Contacts:
Address: Praça da República 45, 4480-741 Vila do Conde
Phone: +351 252 248 469
E-mail: auditorio.municipal@cm-viladoconde.pt
Timetable: tuesday to thursday – 9.30 AM to 12.30 PM and 2.30 PM to 6 PM / friday – 2.30 PM to 7 PM and 8.30 PM to 12 AM / saturday – 2.30 PM to 7 PM and 8.30 PM to 11.30 PM