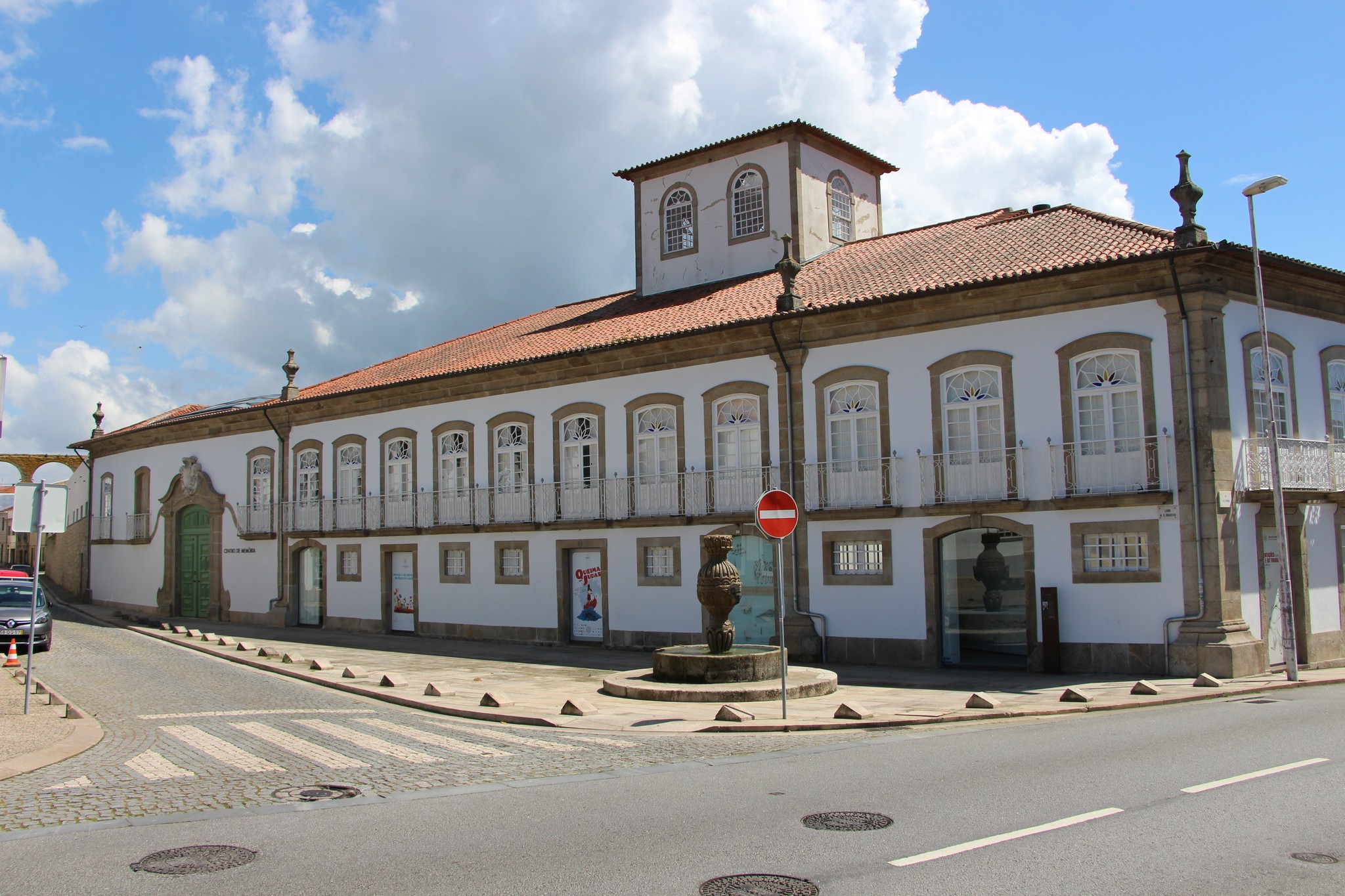 The Vila do Conde Memory Center (Centro de Memória de Vila do Conde) is located in an emblazoned house, the Manor of St. Sebastian (Solar de São Sebastião). Built in the 17th century, it owes its name, like the plaza where it's built, to a chapel that was once placed in front of the main façade. The chapel was transferred to the municipal cemetery in 1853, at the time of the opening of the Royal Road (Estrada Real), now EN 13.
It is known that already on April 11th, 1672, this house had an ownership change, a fact proven by a deed preserved in the Municipal Archives, curiously located in this same building.
The coat of arms dates back to the mid 18th century, at which time the house was owned by Luis Inácio Pereira Coutinho de Vilhena and his wife, Maria Joana Carneiro Rangel Sotto Mayor, presenting a cartouche of rococo inspiration and a nobility crown. It represents the Pereira, Rangel, Coutinho and Carneiro families.
Between 1979 and 2001, this was the place of the Municipal Library, stemming from a lease by its owners, descendants of Counselor Figueiredo Faria. Acquired by the Municipality in 2000, the house underwent deep restoration and remodeling works, and the Memory Center was inaugurated on December 14, 2008.
The renovated property was awarded the IRHU Rehabilitation Prize and the Alexandre Herculano National Architecture Prize.
The Memory Center is a space dedicated essentially to art and history. Here you can find the Municipal Archives, the Archeology Office, the Júlio / Saúl Dias Gallery and Study Center , the Museum of Vila do Conde and the Environmental Education Center, contributing to the creation of a cultural equipment of high interest, destined to knowledge and leisure.
The permanent exhibition, "Time and Territory" ("Tempo e Território"), shows a presentation of facts and objects of historical interest of the municipality, from the beginnings of human evolution to the present day.
Image Gallery:
Contacts:
Address: Largo de São Sebastião – 4480-706 Vila do Conde
Phone: +351 252 248 468 (marcações)
E-mail: centro.memoria@cm-viladoconde.pt
Timetable: tuesdays to sundays – 10 AM to 6 PM